Thanks to Smart Windows Anti-graffiti, cleaning graffitied windows will no longer be a waste of time: the product's perfectly transparent protective film prevents paint from encrusting and sticking to glass. Paint dries on the surface, and a simple clean with a pressure washer on a medium setting helps to remove graffiti: cleaning becomes much easier and faster, and the glass does not show the traces of repetitive cleaning!
Smart Windows Anti-graffiti is the most resistant anti-graffiti product in the world: it remains effective after 20 successive paint removals!

Ultra resistant anti-graffiti
Watch the demo in video !
Graffiti disappears in a flash!
With Smart Windows Anti-graffiti for windows, graffiti is easily removed and windows get their clarity back in no time. Bus shelters, shops, buses, underground trains, trains, railway and industrial buildings: glazing protection for the entire urban environment.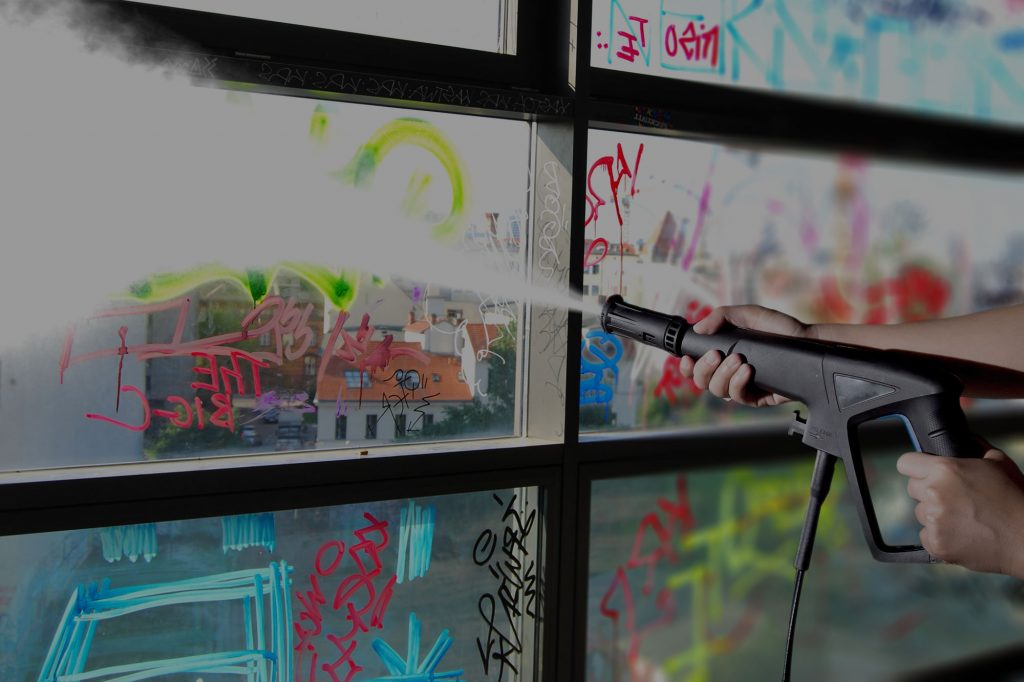 Simple, economical and very efficient cleaning
Smart Windows Anti-graffiti greatly reduces  costs and human resources for the maintenance of glazing. Thanks to its hydrophobic properties, the product acts in a few hours only after application. A simple cleaning with a thermal or electric cleaner is enough to completely remove the graffiti!
Long-term application
Simple to apply, Smart Windows Anti-graffiti resists up to 20 paint removals! Colourless and invisible, it lets windows remain transparent even after having been graffitied and cleaned several times. A unique product in the world, made in France!